According to the National Association of Realtors®, sales of existing homes jumped out to a fast start in 2017, eclipsing a recent high and hitting the quickest pace in nearly a decade. All major regions except for the Midwest saw sales growth last month.

Total existing-home sales (transactions for single-family homes, townhomes, condominiums and co-ops), bumped up 3.3 percent to a seasonally adjusted annual rate of 5.69 million in January from 5.51 million in December 2016. January's sales velocity is 3.8 percent above one year ago (5.48 million) and eclipses November 2016 (5.60 million) -- this is the quickest pace since February 2007 (5.79 million).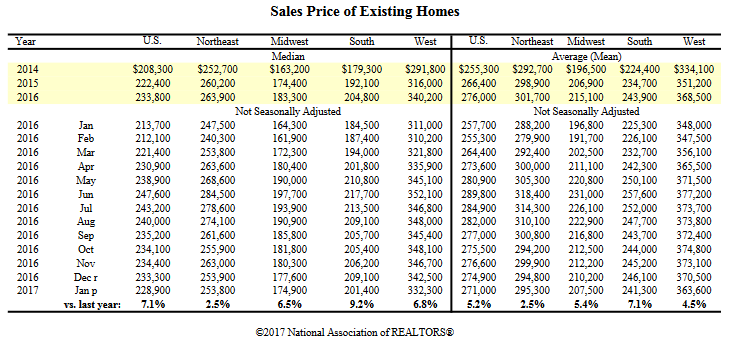 NAR's chief economist, Lawrence Yun, indicated that January's sales increase points to stability among consumers despite a rising interest rate environment. "Much of the country saw robust sales activity last month as strong hiring and improved consumer confidence at the end of last year appear to have sparked considerable interest in buying a home," Yun said.
Housing Data Takeaways
January's median existing-home price (all housing types) was $228,900, up 7.1 percent from January 2016 ($213,700). January's price bump represents the 59th straight month of year-over-year gains.




Total US housing inventory at January's end grew 2.4 percent to 1.69 million existing homes available for sale -- but this remains 7.1 percent lower than a year ago (1.82 million) and has dropped for 20 straight months. Nationally, unsold inventory offers a 3.6-month supply at the current sales pace (the same as December 2016).




First-time buyers generated 33 percent of US sales in January, up from 32 percent in December and one year ago.




Freddie Mac data shows the average commitment rate for a 30-year, conventional, fixed-rate mortgage fell a bit in January to 4.15 percent from 4.20 percent in December. The average rate across 2016 was 3.65 percent.